...and being a woman who has a full closet and yet laments that she has nothing to wear, I need to decide (firmly) what I'm going to bring with me. Weather in Europe is a bit titchy now cos it's warm (but not hot) though sometimes I would require a jacket. There is also the issue of what shoes to bring, how many clothes, gifts for friends etc. My colleague has a great suggestion of...(and I quote)
"Don't understand what the problem is……all you need to bring is one change of under and outer wear in your huge suitcase, one foldable/expandable bag, mobile phone, passport, ticket, any confirmation of reservations, some cash, ALL CREDIT & ATM cards!!!!"
Another suggested bringing 3 G-strings which could be used a total of 6 times and get totally skanky!! Eww!!!
My boss only just realised last Fri that I am going on long leave. He also forgot that he was the one who approved my leave. I've been doing all my last minute stuff since the weekend and trying to clear my table too...I've got a new secretary as of today and I bet she's relived that I'm going away after tmr...LOL.
Oooh the gals and I had an absolutely lovely weekend at Empire with lots of snacks, chocolate (birthday) cake, soft fluffy duvets and great laughs and conversation. We got to stay in the Lagoon section which was quite new for me though I liked being quite near a pool and the layout makes u feel like ur not in Brunei.
It was my (remaining) grandad's birthday last night and I ate too much....I think I've had enough of birthday cakes for now...someone's just told me to eat lots in Prague....I'm going to be so super fat!!
Anyways, I'll leave u with an LO I made the other nite when I scrapped till 2am. It was kinda nice to not be scrapping for a competition or challenge or submission for a change. I wanted to call it a night at 12ish then I saw these pics I had printed of the couples spa me and H did in KK calling out to be scrapped and I gave in. I mainly used my April SOMO kit and I loved the texture of the CS here cos it felt like wood. Love the border stamp and the little journalling one. Nice n simply ya?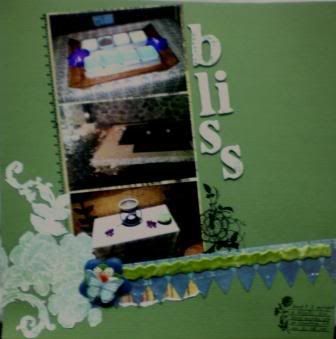 Btw, shameless plug for my 2nd cousin's new shop at Kiulap Mall called UrbanChic. She has some GREAT stuff there and I especially LOVE the accessories!! I bought a ring and earrings...very bling bling. I'm resisting the necklaces for now. I bought a dress that was way over my budget but just too beautiful to resist and a long white shirt that is just absolutely cool!! I contributed well to her opening with my purchases and its not all expensive (I just happened to pick the more expensive clothes). Some really good deals to be found there. Rest assured I will be back again when their new shipment comes in 2 weeks (since alot of their stuff is gone already)...that is if I havent spent too much on holiday *gulp*
Oh i'm also pleased to record that I have managed to avoid mass SB shopping...I'm being very strict with myself now. The last time was at Jazz's for B&B chipboard which I split with Z, some Perfect Pearls n a couple of things from Scrap4Less. I think I'm being good :)